FOR ADDITIONAL BIOTE PRODUCTS, PLEASE CALL US AT 806-677-7952 EXTENSION 229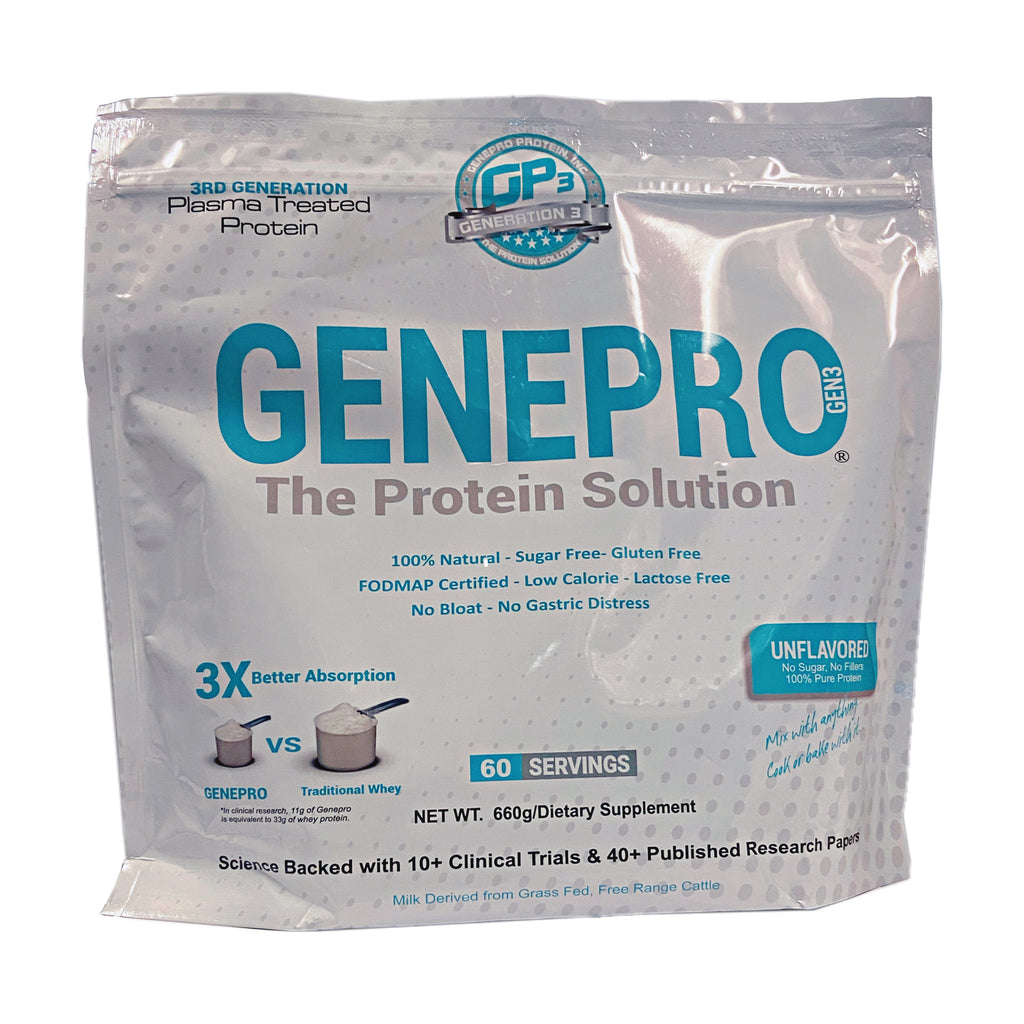 Genepro (Original formula) - 60 servings
$65.00
One scoop of Genepro Gen3 weighs 11g but should be counted as 30g of protein consumption.  
Genepro Gen3 is The Protein Solution(™) for a vast variety of health conditions, dietary restrictions, and wellness goals.  Since 2014 we have brought you the most clinically proven and effective protein science has to offer.  Now backed by over 40 clinical trials and research papers, the best just got better.
COMPLETE PROTEIN SOLUTION – This is a highly pure and flavorless protein that is ideal for everyday use as well as for patients recovering from bariatric surgery. This gluten free protein powder boosts your immune system and helps you heal faster.

HIGH ABSORPTION RATE -- Genepro absorbs at a best in class 99.9%, meaning everything you consume your body is actually using!  With most whey proteins absorbing at 34% Genepro is clinically proven 3x more effective than regular whey protein  powders.  We have partnered with Plasma Nutrition to utilize their Ingredient Optimized technology to not only help with that increase absorption from Gen2 by 126%, but to also decrease gastric distress by a whopping 46%! 
LACTOSE FREE, GLUTEN FREE, SUGAR FREE, NON GMO -- Genepro is the cleanest protein on the market.  There are ZERO fillers such as sugar, flavoring, or unwanted excess calories from fats and carbohydrates, making Genepro a great option for those on a keto diet.  There is only ONE ingredient in Genepro protein.  Genepro is low in Phosphorus making it an ideal option for this with compromised kidney function. One scoop of Genepro has 64mg Phosphorus.
FLAVORLESS PROTEIN –  Solve your protein needs by mixing this sugar free protein powder with your favorite beverages. Odorless and flavorless, it goes well with soda, juice, smoothies, and coffee.
LOW CALORIE – Our sugar free protein for women and men contains half as many calories as comparable powders on the market. Depending on your gluten free protein needs, you can choose between four (4) serving sizes: 30 Serving, 45 Serving, 60 Serving, and 128 Serving.  As the servings go up, the price goes down!